"Perhaps the most hilarious hostage scene in crime fiction history." That's quite an honor, David. Thank you!
davidkinchen
Reviewed by David M. Kinchen 
In my previous reviews of Lauren Carr's Mac Faraday mystery novels, I neglected to mention the humor that infuses these very readable books.
Humor — much of it engendered by Gnarly, Mac's irrepressible German Shepherd — is present in her latest Mac Faraday mystery, "Twelve to Murder" (Acorn Book Services, 262 pages, $12.99 trade paperback, also available in a Kindle from Amazon).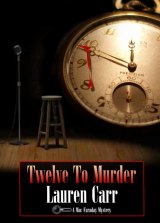 The murder of a wealthy middle-aged couple in their  home in Deep Creek Lake, MD, opens up several cans of worms involving Hollywood celebrities. And, despite the fact that Mac Faraday is no longer a homicide detective, he becomes involved in the case.
The victims are Janice and Austin Stillman. Janice is a high-profile agent, relocated from Tinseltown to Garrett County, Maryland's westernmost county. One of Janice's clients, former child star and teen idol, Lenny Frost, is almost immediately suspected of doing the…
View original post 542 more words